--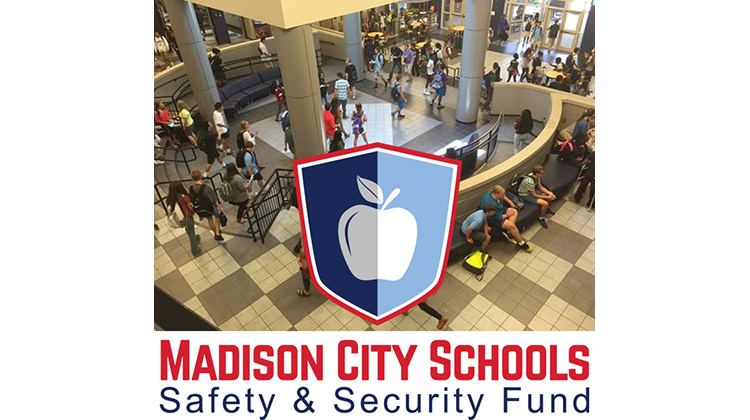 Madison City School Safety and Security Fund
(Central Office)
Safety and security of schools have always been a priority of Madison City Schools. In today's climate, we cannot become complacent thinking we are immune from harm.
On March 27, 2018, Madison City Schools held an extensive work session on Safety, Security and Communications led by the superintendent, police and fire chiefs, school counselors, principals, behavioral specialists, a student and others. They spoke of the challenges meeting the safety and security needs of our school district.
Bottom line. Madison City Schools has an immediate need for more School Resource Officers and counseling support. These needs can't wait another year before the Legislature meets, or to miraculously find money in a budget that is strained by growth demands.
One short-term fix we are implementing is the establishment of a Safety & Security Fund to seek immediate help from the Madison community through private donations. Madison has a history of stepping up to help schools. This funding mechanism is a way the community can contribute to an immediate need that will help every student in Madison City.
In the meantime, we are pressing forward with development of a new strategic plan that will include a full safety & security assessment by an outside, professional agency.
Citizen and corporate contributions will help address immediate staffing needs in the following areas:
SROs for every school.

Additional counselors/counseling services based on student populations at each school.

Expand mental health services for students through the Enrichment Center.
Additional SROs and counseling services will provide the human element that works so effectively in prevention. The MCS Safety Plan will look at security and safety systems, technology enhancements, policy changes and other areas.
More information is available in these FAQs.
Why do we need more SRO's?
Our Police Chief recommends employing SRO's instead of arming educational staff with guns. The SRO's are not only trained in the use of deadly force, but also form relationships with students that helps them keep our schools safe.

Currently, 7 elementary schools share two rotating SROs. MCS funds full-time SROs in its secondary schools.
Why do we need more counselors?
School safety begins with preventive measures that help students in crisis before they engage in violent activity.

The American School Counselor Association recommends 1 counselor for every 250 students.

The national average is 1 counselor for every 482 students and the state average is 1: 453 students.

Madison City's average is 1 counselor for every 626 students.
Students find themselves in crisis at earlier and earlier ages in our schools. MCS currently does not offer mental health services for the vast majority of its elementary students, and has limited resources for services at the secondary level.

How much will all of this cost?

The SROs and additional counseling will cost approximately $750,000. These expenditures would come from local funds that cover teaching units. Madison City Schools already has the 5th highest student-teacher ratio among the state's 137 school districts and ranks 61st in per-pupil expenditures.
Prefer to donate by check?
No problem. Please make checks payable to "Madison City Schools" and be sure to include "Safety & Security Fund" in the memo line. Mail to:
Madison City Schools
ATTN: Jana Gray, CSFO
211 Celtic Dr
Madison, AL 35758
Recent Donations
LP
Liberty Middle Parent Pledges
DP
Discovery Middle Parent Pledge
JP
James Clemens Parent Pledge
LP
Liberty Middle Parent Pledge
BP
Bob Jones Parent Pledge
GP
Greg and Tracey Pollard
MB
Madison City Board of Education
LP
Liberty Middle Parent Pledge
JP
James Clemens Parent Pledge
DP
Discovery Middle Parent Pledge
BP
Bob Jones Parent Pledge
JB
Justin and Kelly Baugher
JK
Jeff and Nancy Fae King
MW
Mark & Lora Whittemore
JI
Jay and Kristy Ingalls
JM
Justin & Leigh Ann Martin
KM
Kevin and Leslie McGill
DK
Dusty and Andrea Kilgore
SA
Susie and Corey Averitt
KW
Keith and Jenny Whatley
JS
Jim and Kyna Schutzbach
JP
Jeffrey & Ashley Peeden
JC
Jennessa and Russell Crosswy
JS
Jacob and Brandi Sterling
RD
Ryan and Caroline Darracott
BR
Byron and Debbie Rogers
GJ
George and Judith Jones
RP
Robby and Anita Parker